Connecticut Compost Conference
March 23, 2020
Central Connecticut State University
CT RC&D and partners are working together to host Connecticut's first Compost Conference. This informative day will include keynote speakers, breakout sessions, panel discussion, networking, exhibitors, and a Q&A. This critical event will provide information and resources for farmers and municipalities to expand their leaf and/or manure composting operation to include food scraps. The focus of workshops will include the benefits to soil health, conservation, food waste management, and climate adaptation. Compost manufacturing and compost utilization are vital to producing healthy soils, clean air and water, and a sustainable society.
Generous Sponsors: Sustainable CT, Farm Credit Northeast AgEnhancement, Recycle CT, UConn Master Composter Program, American Farmland Trust, CT Recyclers Coalition, Peels & Wheels Composting, Council on Soil and Water Conservation, and CCAPA.
Planning Partners: CCSU, CT DEEP, CT DOAG, CT RC&D, CT NOFA, USDA NRCS, UConn Extension, American Farmland Trust, CT River COG, NW Conservation District, Center for Ecotechnology (MA), CCSWC, Composting Association of VT and other partners from MA and VT.
Full registration scholarships are available to make the CT Compost Conference more accessible and inclusive by providing financial assistance to attend. Scholarships are prioritized for new or beginning farmers, farmers of low-income, or farmers who belong to ethnic, racial and sexual identity groups that have traditionally been underrepresented in Connecticut agriculture.
If you are interested in a registration scholarship please email Emily Cole at American Farmland Trust before registering for the CT Compost Conference. Her email is ecole [at] farmland.org – please include a brief introduction to yourself and your farming goals or experiences in your email.
Register at http://ctnofa.org/event/connecticut-compost-conference
Please call 860.345.3977 for more information.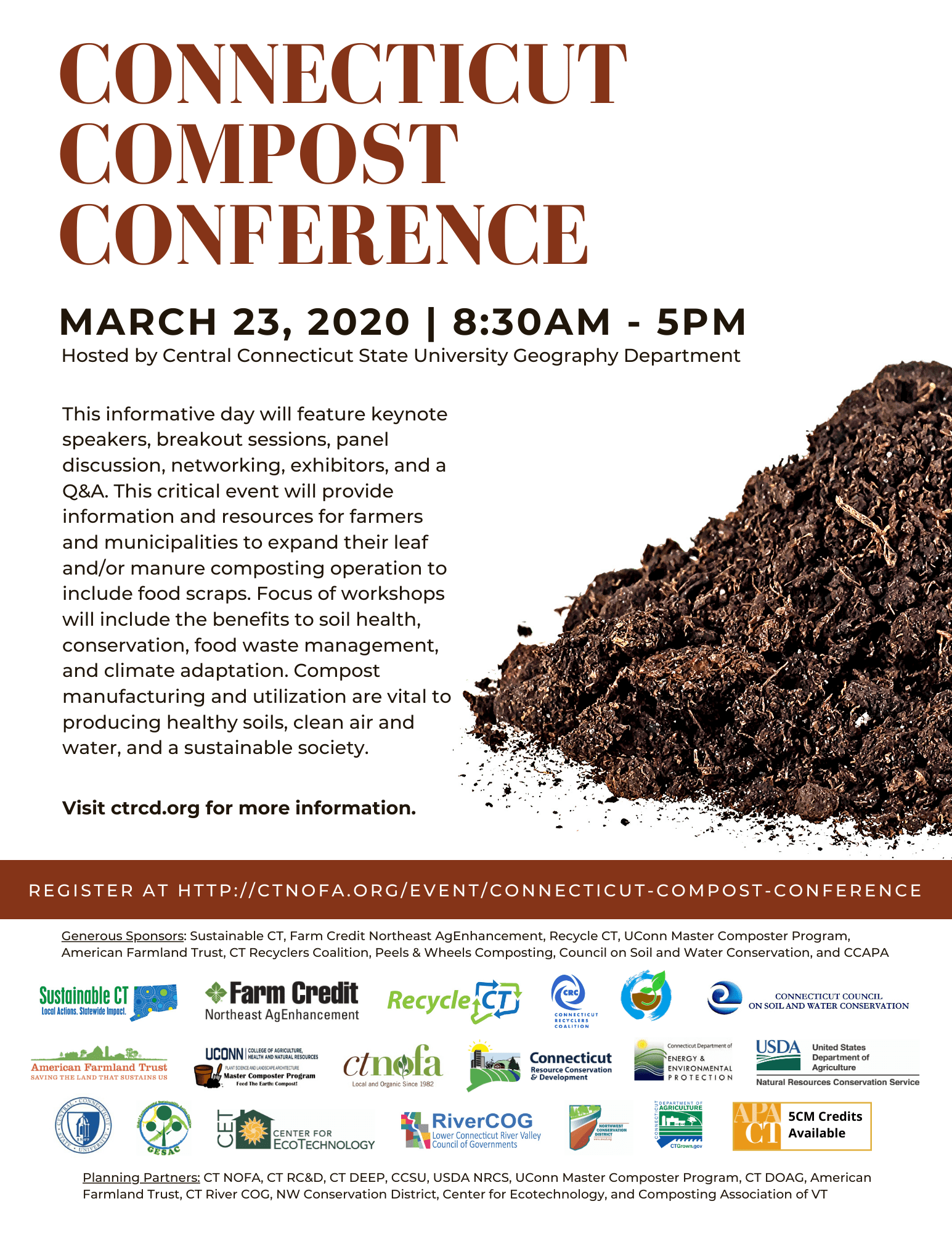 Tentative Schedule
8:30am - Registration, Breakfast, Networking, and Exhibitor Tables
9:15am - Welcome

Prof. Charles Button, CCSU
State of the State – Compost permitting and regulations status in Connecticut
CT Commissioner Bryan Hurlburt, CT Department of Agriculture and Robert Isner, Director Waste Engineering and Enforcement Division, CT DEEP

10:00am - Keynote Presenters

Mark Hutchinson, University of Maine Composting School
Andrew Carpenter, Northern Tilth, Maine

11:30am - Breakout Sessions

Back to Basics: Medium Scale Composting- Mike Carignan, AGRESOURCE, NY
Scale Up: Advanced Composting – Recipes & Calculators - Domingo Medina, CT NOFA

12:30pm - Lunch, Networking, and Exhibitor Tables
1:30pm - Breakout Session

Compost Feedstocks – Mark Hutchinson, University of Maine Composting School
Compost siting, equipment, infrastructure, management and nutrient management - Andrew Carpenter, Northern Tilth, Maine

2:30pm - Composting in CT - Farms & Municipalities currently composting

Speaker Panel/Q&A Coryanne Mansell, CET, MA (moderator and introduce: COMMUNITY TOOLKIT: Adding Food Waste to Compost) Panel speakers to be announced.

3:45pm - Compost Testing & Results

Dawn Pettinelli, UConn Extension
Beneficial Uses of Compost – James Hyde, USDA NRCS

4:15pm - Networking and Exhibitor Tables
4:45pm - Conclude