2020 Connecticut Compost Webinar Series
CT RC&D and partners hosted a Connecticut Compost Webinar series. This critical series provides information and resources for farmers and municipalities to expand their leaf and/or manure composting operation to include food scraps. The focus of the webinars included the benefits to soil health, conservation, food waste management, and climate adaptation. Compost manufacturing and compost utilization are vital to producing healthy soils, clean air and water, and a sustainable society.
Generous Sponsors: Sustainable CT, Farm Credit Northeast AgEnhancement, Recycle CT, UConn Master Composter Program, American Farmland Trust, CT Recyclers Coalition, Peels & Wheels Composting, Council on Soil and Water Conservation, and CCAPA.
Planning Partners: CCSU, CT DEEP, CT DOAG, CT RC&D, CT NOFA, USDA NRCS, UConn Extension, American Farmland Trust, CT River COG, NW Conservation District, Center for Ecotechnology (MA), CCSWC, Composting Association of VT and other partners from MA and VT.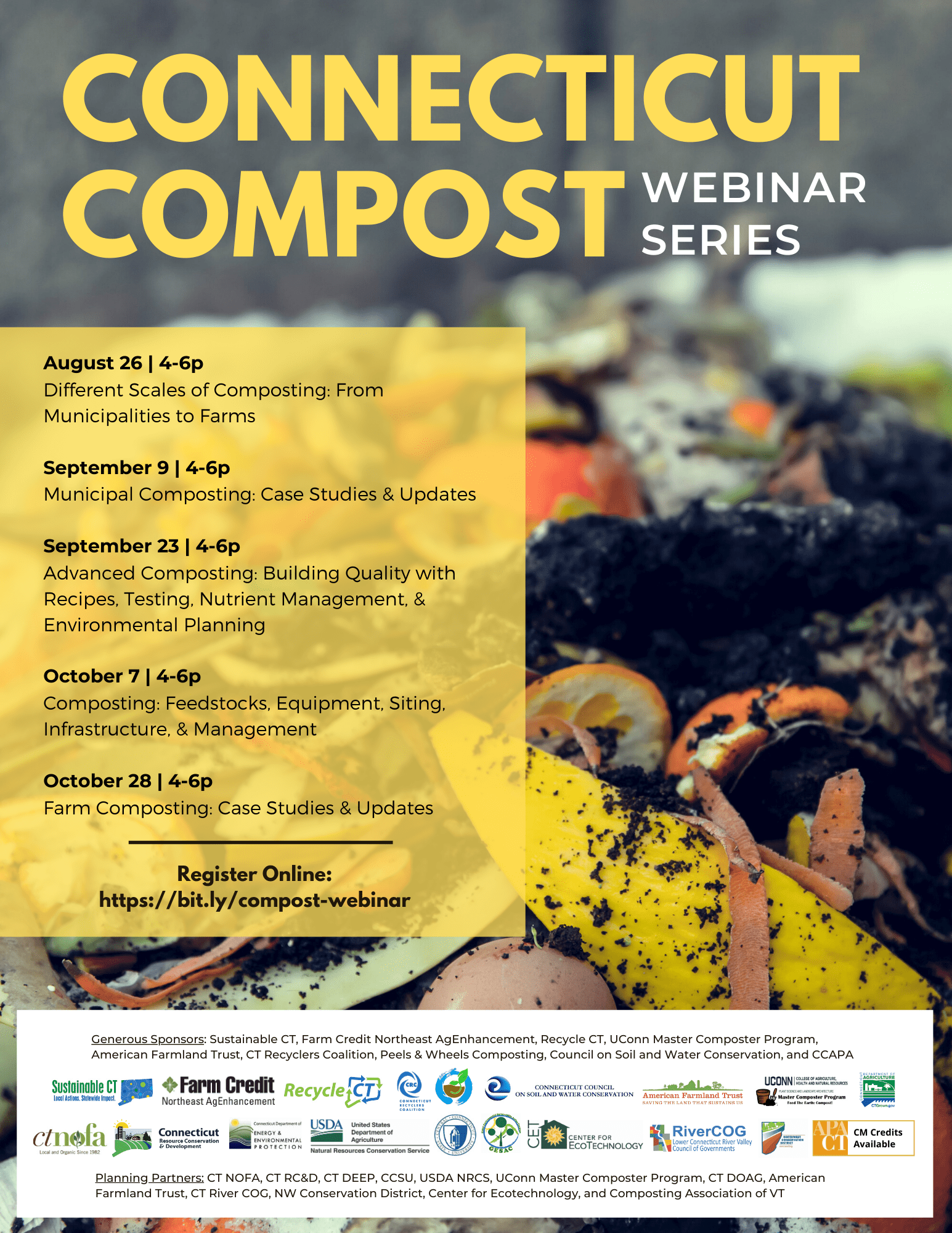 Videos and Webinar Recordings
Webinar Recordings

August 26, 2020 | Different Scales of Composting: From Municipalities to Farms

Speakers: Robert Isner, CT DEEP; James McSweeney, Compost Technical Services and Coryanne Mansell, Center for EcoTechnology

Moderator & Host: Sherill Baldwin, CT DEEP

September 9, 2020 | Municipal Composting: Case Studies & Updates

Speakers: Coryanne Mansell, Center for EcoTechnology; Athena Lee Bradley, Windham Solid Waste Management District, Brattleboro, VT; Doug Colter, City of West Haven; Jennifer Heaton-Jones, HRRA; Dave Aldridge, SCRRRA


Moderator & Host: Sherill Baldwin, CT DEEP

September 23, 2020 | Advanced Composting: Building Quality with Recipes, Testing, Nutrient Management, & Environmental Planning

Speakers: Domingo Medina, CT NOFA/Peels and Wheels Composting; Dawn Pettinelli, UCONN; Jim Hyde, USDA NRCS


Moderator & Host: Sherill Baldwin, CT DEEP

October 7, 2020 | Composting: Feedstocks, Equipment, Siting, Infrastructure & Management

Speakers: Andrew Carpenter, Northern Tilth; Peter Moon, O2 Composting; Jim Hyde, USDA NRCS


Moderator & Host: Sherill Baldwin, CT DEEP

October 28, 2020 | Farm Composting: Case Studies/Updates

Speakers:Joe Wettemann, CT DEEP Water Permitting and Enforcement Division; James Hyde, USDA NRCS; Brian Jerose, Agrilab Technologies; Dr. Candace Benyei, Whimsy Brook Farm; Mike Carignan, Agresource, Inc

Moderator & Host: Sherill Baldwin, CT DEEP