Calling all composters! The CT Compost Alliance is excited to announce that the first CT Compost Conference will be held on March 14, 2024, at Connecticut College in New London, CT. This informative day will include keynote speakers, breakout sessions, networking, a catered lunch, and exhibitors. Attendees will benefit from a variety of themed breakout sessions, providing education on composting related to the basics, home, farm, municipal, schools, and medium to large scale operations. The event will highlight how composting can benefit local communities, businesses, the environment, and improve climate resiliency.
Webinar Series Info & Recordings
MARCH 23 | 3-6 PM | TRACK 1: COMPOST BASICS AND SCIENCE OF COMPOST
Come learn about composting basics. Food and yard wastes can be turned into a nourishing and free soil amendment. Discover the drivers of the decomposition process, find out how to troubleshoot and avoid problems and become aware of the many benefits of compost.
---
MARCH 30 | 3-6PM TRACK 2: ON-FARM COMPOSTING AND BIOCHAR IN COMPOST
The first part of the webinar Northern Tilth will be joining us who works with farms throughout New England providing technical guidance for on-farm composting operations. Northern Tilth is currently working under an NRCS Conservation Innovation Grant in Connecticut to help develop an NRCS practice for optimizing on-farm composting operations. This presentation will provide an overview of their on-farm composting observations and discuss the objectives of the current Connecticut project. The second part of the webinar will focus on biochar and compost as it relates to agriculture operations, speakers will include Arthur Point Farm, NY, USDA NRCS, and UConn Extension.
---
APRIL 6 | 3-6PM TRACK 3: LARGE MUNICIPAL & COMMERCIAL SCALE COMPOSTING
Hear from municipalities developing on-site compost initiatives, speakers from CT DEEP, West Haven, CT, Atlas Organics, and SCRRRA will discuss process capacity, permitting process, school participation, what's next and lessons learned. The second half of the webinar will focus on municipalities creating opportunities to collect food scraps in town with speakers from Salisbury, CT, Sharon, CT, Middletown, CT and Waste Free Greenwich who will present on what towns are doing, what they are proposing, lessons learned and how to replicate their efforts.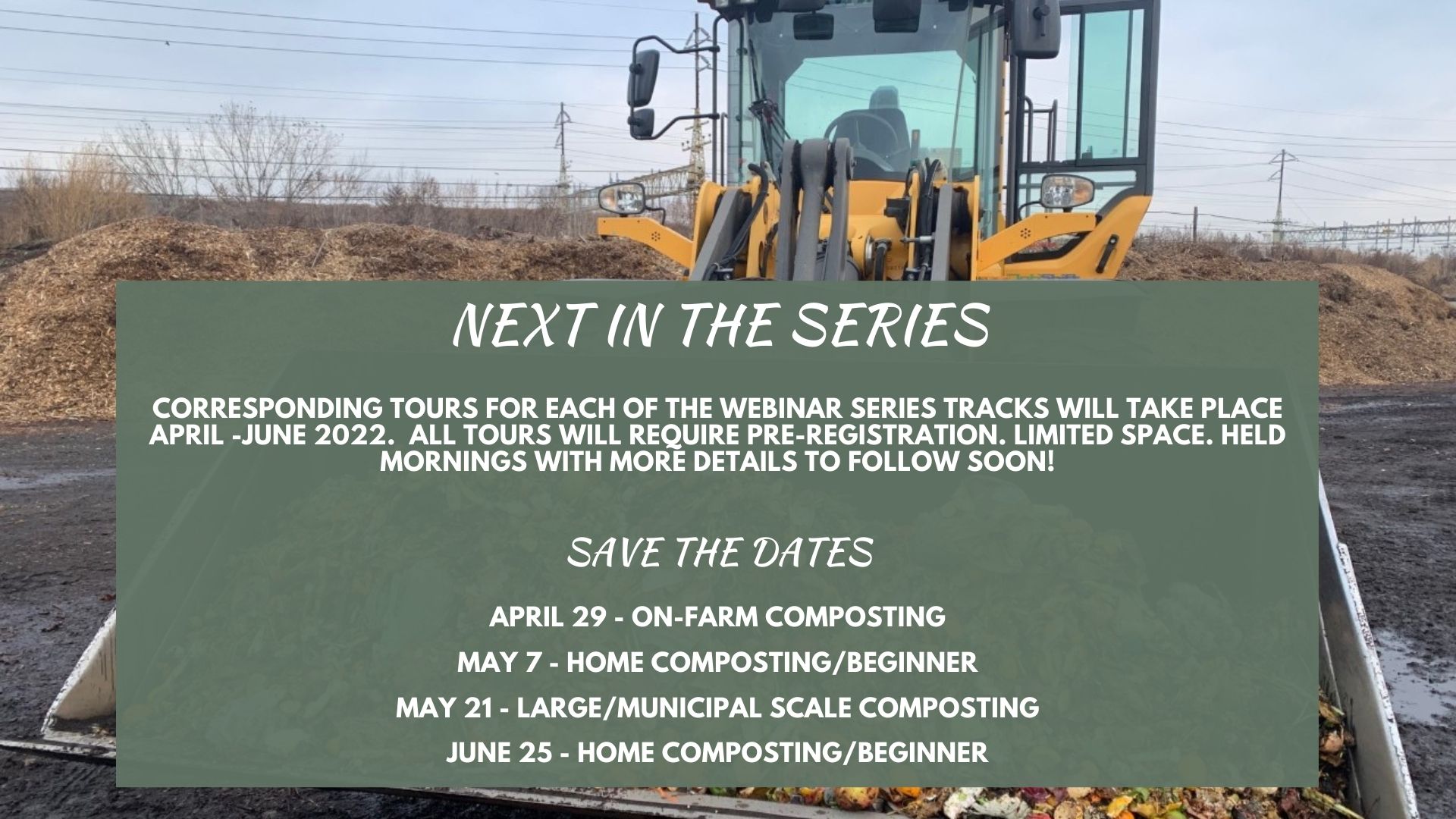 Corresponding Tours & Registration
Tour #1: On-Farm Composting
April 29
Join farm owner Jessica Stone for a tour of the farm and compost operation. The farm is currently working with Northern Tilth who works with farms throughout New England providing technical guidance for on-farm composting operations.  Northern Tilth is currently working with an NRCS Conservation Innovation Grant in Connecticut to study existing compost piles and then advise low-cost changes to reduce environmental losses and increase the finished compost quality and value.  This tour will provide an overview of the on-farm composting, observations and discuss with the farm, and how they utilize compost.
Tour #3: Large/Municipal Scale Composting Tour
May 21
Learn about the efforts and challenges of two CT composting initiatives, a mid-scale and large-scale aerated static pile (ASP) compost systems. Common Ground High School and the City of West Haven use similar compost systems, but with different scales, technology, and goals.
Tours #2 and #4: Home Composting/Beginner
This is a hands-on field trip; please dress in clothing you don't mind getting dirty.
The Keney Park Sustainability Project (KPSP) began in 2016 to provide hands on training, on-site demonstrations, education outreach and community collaboration that help families become more self-sustainable and environmentally conscious, while preserving the historic Keney Park. Join KPSP staff for a tour of the site, and participate in a hands-on composting project. Tour the many types of composting systems KPSP supports from worm bins to tumblers all while learning about KPSP's other efforts from planting native plants to producing maple syrup. 
May 7: REGISTER
June 25: REGISTER
2020 Connecticut Compost Webinar Series
CT RC&D and partners hosted a Connecticut Compost Webinar series. This critical series provides information and resources for farmers and municipalities to expand their leaf and/or manure composting operation to include food scraps. The focus of the webinars included the benefits to soil health, conservation, food waste management, and climate adaptation. Compost manufacturing and compost utilization are vital to producing healthy soils, clean air and water, and a sustainable society.
Generous Sponsors: Sustainable CT, Farm Credit Northeast AgEnhancement, Recycle CT, UConn Master Composter Program, American Farmland Trust, CT Recyclers Coalition, Peels & Wheels Composting, Council on Soil and Water Conservation, and CCAPA.
Planning Partners: CCSU, CT DEEP, CT DOAG, CT RC&D, CT NOFA, USDA NRCS, UConn Extension, American Farmland Trust, CT River COG, NW Conservation District, Center for Ecotechnology (MA), CCSWC, Composting Association of VT and other partners from MA and VT.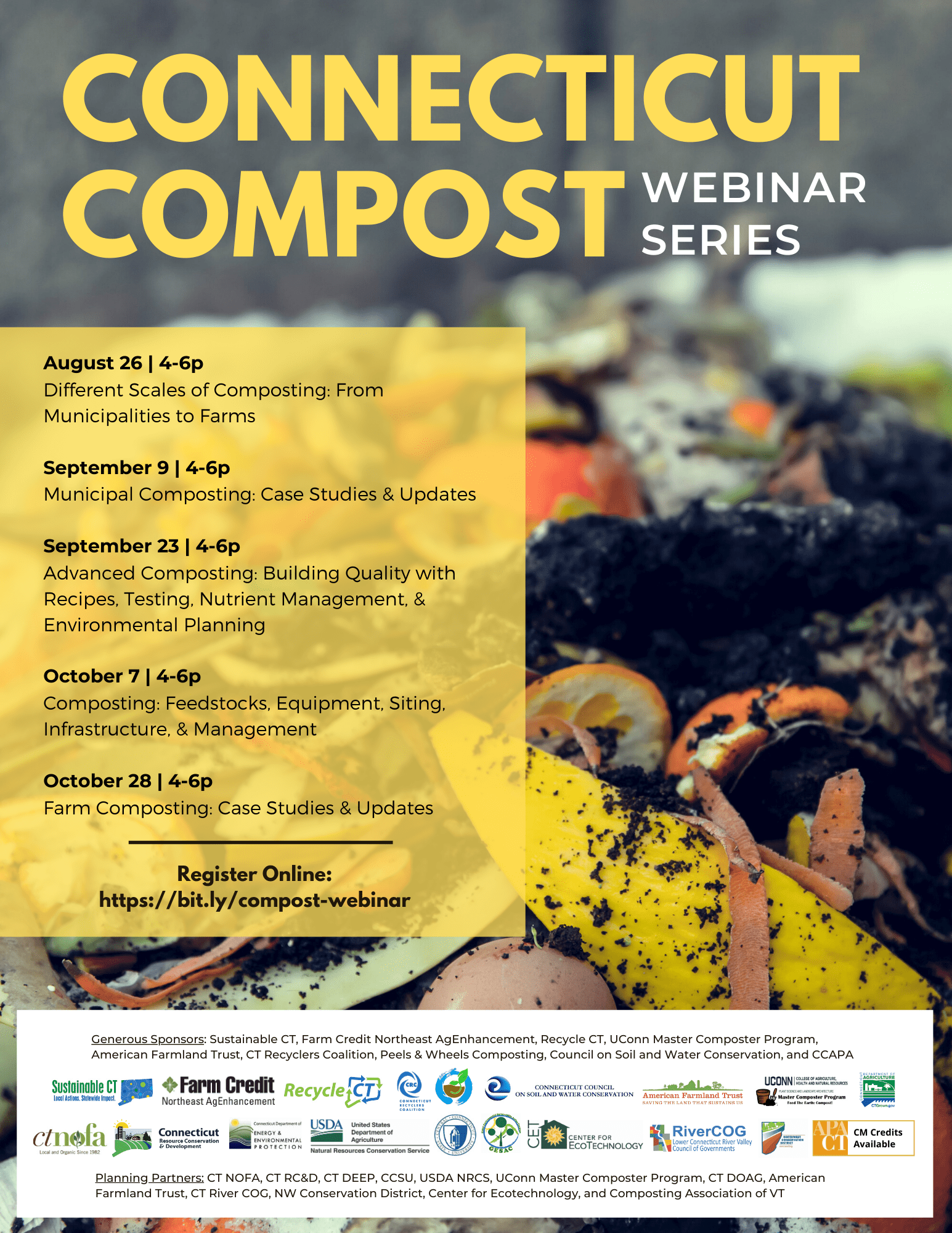 Videos and Webinar Recordings
Webinar Recordings

August 26, 2020 | Different Scales of Composting: From Municipalities to Farms

Speakers: Robert Isner, CT DEEP; James McSweeney, Compost Technical Services and Coryanne Mansell, Center for EcoTechnology

Moderator & Host: Sherill Baldwin, CT DEEP

September 9, 2020 | Municipal Composting: Case Studies & Updates

Speakers: Coryanne Mansell, Center for EcoTechnology; Athena Lee Bradley, Windham Solid Waste Management District, Brattleboro, VT; Doug Colter, City of West Haven; Jennifer Heaton-Jones, HRRA; Dave Aldridge, SCRRRA


Moderator & Host: Sherill Baldwin, CT DEEP

September 23, 2020 | Advanced Composting: Building Quality with Recipes, Testing, Nutrient Management, & Environmental Planning

Speakers: Domingo Medina, CT NOFA/Peels and Wheels Composting; Dawn Pettinelli, UCONN; Jim Hyde, USDA NRCS


Moderator & Host: Sherill Baldwin, CT DEEP

October 7, 2020 | Composting: Feedstocks, Equipment, Siting, Infrastructure & Management

Speakers: Andrew Carpenter, Northern Tilth; Peter Moon, O2 Composting; Jim Hyde, USDA NRCS


Moderator & Host: Sherill Baldwin, CT DEEP

October 28, 2020 | Farm Composting: Case Studies/Updates

Speakers:Joe Wettemann, CT DEEP Water Permitting and Enforcement Division; James Hyde, USDA NRCS; Brian Jerose, Agrilab Technologies; Dr. Candace Benyei, Whimsy Brook Farm; Mike Carignan, Agresource, Inc

Moderator & Host: Sherill Baldwin, CT DEEP