Solving the Connecticut River's Aquatic Invasives: CT ERT Webinar Series
June 15 | 4-4:30p
Part One: Rationale for Aquatic Invasives Management - Boating & Connecticut River Conservancy
June 18 | 4-4:30p
Part Two: Economics of the Lower Connecticut River - Natural Resource Protection of the Lower Connecticut River Valley
June 22 | 4-4:30p
Part Three: Advocacy and Outreach on Aquatic Invasives - Regional & Local
June 25 | 4-4:30p
Part Four: Conditions on the Connecticut River: 2019 Hydrilla Survey & Mapping - Connecticut Agricultural Experiment Station
Over the last few years, you've may have traveled the Connecticut River by small boat or kayak on a summer's day and stepped out toward the boat launch or beach, or your motor/paddle becomes snared in a sludge of green matted vegetation or thorny vined large leafed aquatic plants. These invaders clinging to your boat or feet are not natural to the river. They are aquatic invasive plant species that threaten to take over the Connecticut River's coves and tributaries -- and if left unchecked, other lakes, ponds, and rivers in Connecticut.
CT RC&D's Environmental Review Team hosted four webinars for folks to learn about this serious issue from professionals and volunteers, including signature presentations from the Connecticut Agricultural Experiment Station, the Connecticut River Conservancy, and UConn's Sea Grant Program. Attendees learned about existing conditions and how to contribute to the education and management of this overwhelming threat to Connecticut's signature river.
For questions, please contact Jeanne at jdavies@ctrcd.org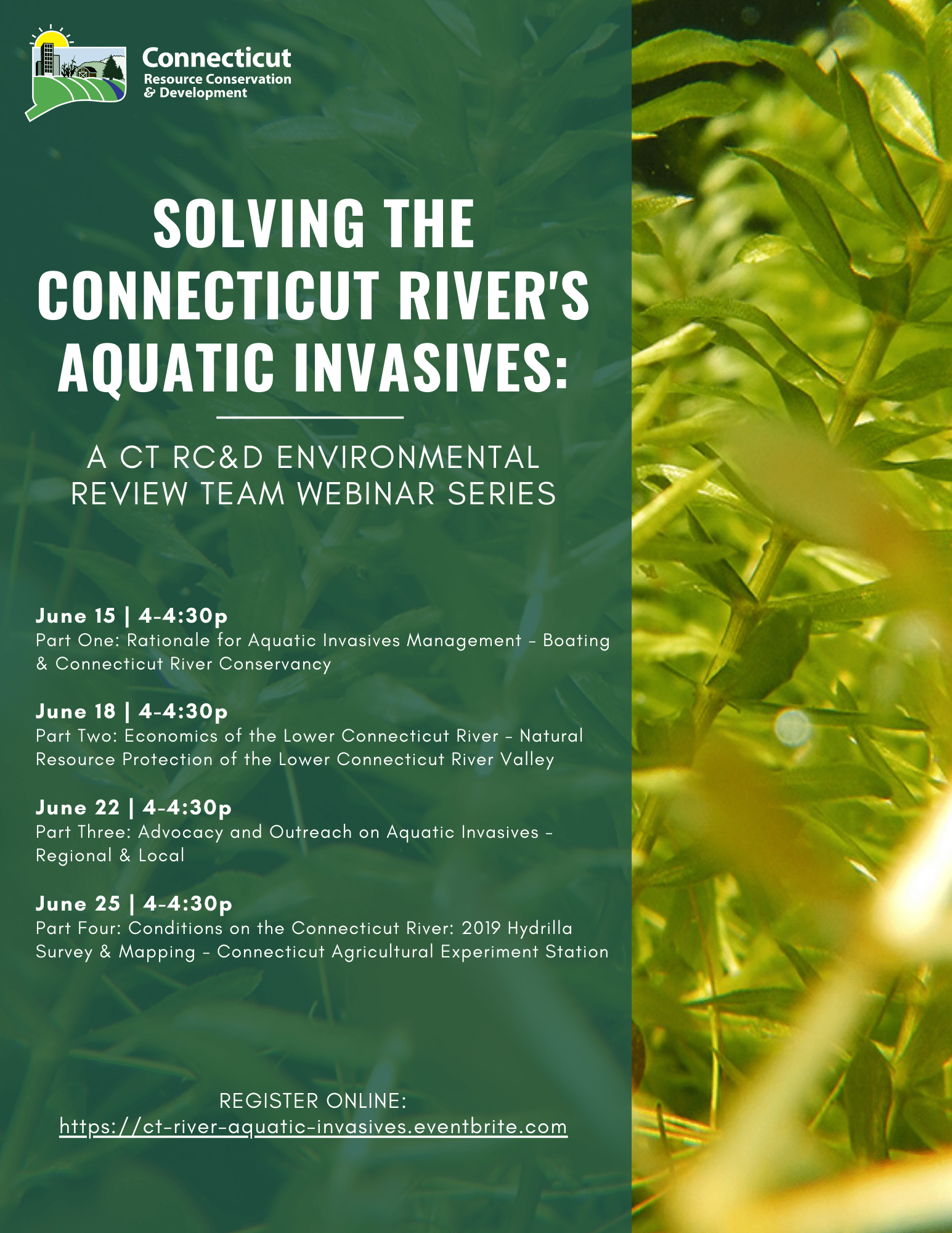 CT River Aquatic Invasives Webinar Recordings
Check out the four-part series on our YouTube channel by clicking the link below.