CT RC&D Awarded 2023 Climate Smart Agriculture & Forestry Grant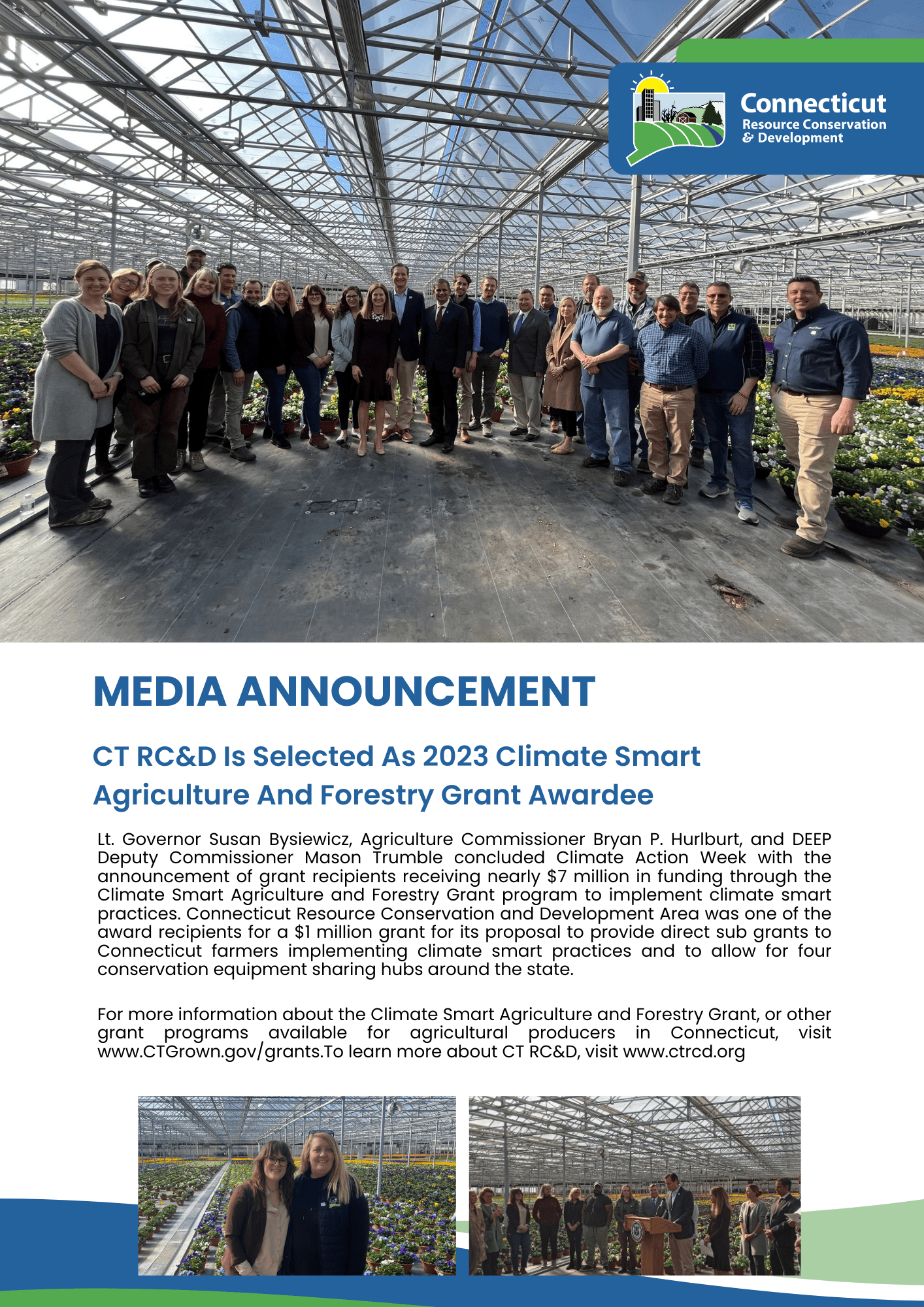 In late March at Grower Direct Farms, Inc. in Somers, CT, the Connecticut Department of Agriculture along with Lt. Governor Bysiewicz announced the names of 12 grant recipients receiving a total of nearly $7 million in grant funding through the Climate Smart Agriculture and Forestry grant program. This funding, provided through Public Act 22-118, can be used "to provide technical assistance, distribute grant funding to producers, coordinate training programs, coordinate projects that pilot or demonstrate water and land-based conservation practices, create tools that help reduce barriers to accessing assistance for water or land-based practices on farms, establish equipment-sharing programs, and to support other activities that will increase the number of farmers who are implementing climate-smart agriculture and forestry practices." Connecticut Resource Conservation and Development Area was awarded $1 million in grant funding.
Connecticut Resource Conservation and Development Area (CTRC&D) is a statewide nonprofit 501(c)(3) organization with the mission to cultivate a diverse, equitable, and resilient Connecticut through partnership-driven solutions to enhance natural resource conservation, agriculture, and rural economies. CTRC&D has a proven track record of serving Connecticut through numerous programs and pilot projects over its 50+ year history. Funding from the Climate Smart grant program will expand the services CTRC&D provides through its CT Soil Health Initiative, Connecticut Farm Energy Program, and FarmUP and Veteran FarmUP programs.
CTRC&D's successful proposal included two major objectives: to offer sub-grants to Connecticut producers who want to implement energy or soil health practices; and to work closely with USDA and other partners to offer 4 conservation equipment hubs by implementing 3 new hubs in the state and expand on an existing one. Oftentimes, due to eligibility requirements and funding limitations, farmers are not always able to receive existing governmental incentive programs. Recognizing this, CTRC&D's first objective is to sub-grant $500,000 of the $1 million award to producers with creative projects that increase resilience and reduce climate impacts on their farms. The second objective is setting up conservation equipment sharing hubs that will provide assistance to CT Veteran Farmers, producers in Northeastern CT, CT River Valley Region, and Northwestern Connecticut area. While CTRC&D successfully established 2 of the state's first equipment sharing hubs in e purchase of conservation tillage and climate smart agricultural equipment is cost-restrictive to most farmers. CTRC&D's proposal will utilize a portion of the funding to purchase pieces of equipment. The equipment hubs will provide much needed access for producers to use, learn cooperatively together, and allow for new practice experimentation.
CTRC&D is a well-established, partnership-driven organization and received over 30 letters of support for their proposal. Through this award, CTRC&D intends to serve up to 50 Connecticut farmers across the state who are interested in improving their climate smart agricultural practices, specifically related to energy and soil health implementation. Through their two major objectives, results of their work will include the building of community and resiliency, reduction of greenhouse gas emissions, improvement of soil quality, and reduce financial barriers for some Connecticut farms to implement these practices. More information about their sub-grants and equipment sharing hubs can be found on their website at: https://ctrcd.org/agriculture/