COMMUNITY
CT RC&D programs promote livable, sustainable communities through partnerships that maintain and enhance the unique quality of life and environment found in Connecticut communities.
Connecticut's rural and urban communities are very different and mutually and fundamentally interdependent. Resources in rural communities are critical to the success of Connecticut's urban areas, and resources demanded by urban areas provide vital economic support for rural lands. Rural lands and communities host water, forest, and agriculture resources which are vital to the health and well-being of all Connecticut residents.
While each of these unique geographic landscapes faces growth and preservation challenges, Connecticut rural communities have historically been overlooked as they attempt to preserve resources, treasured "New England small-town" character, and an equitable tax base.
Rural Land Rural Towns Workshops and Annual Conference
Continued tradition of an annual workshop to highlight the role of rural lands and rural towns as dynamic resources for a healthy and sustainable Connecticut. This year's workshop hosted over 60 attendees where several guest presenters focused on the issues and challenges facing Connecticut's rural communities. The Rural Lands Rural Town Conference was followed by a short ceremony honoring the hundreds of volunteers who have contributed over 50 years to the CT RC&D Environmental Review Team Program. The 2019 Agriculture and Conservation Awards and Scholarships ceremony were followed by networking at Heartstone Farm and Winery.
CT RC&D is looking to expand the afternoon workshop into an all day conference in 2020. If you're interested in participating or volunteering, contact us.
Air Line State Park Trail Master Plan
The Connecticut Department of Energy and Environmental Protection has awarded funds through their Recreational Trails program for an Air Line State Park Trail Master Plan. The $188,522 grant will be used to carry out CT RC&D's proposal of the Twelve Town Air Line State Park Trail Master Plan. CT RC&D- ERT provided $30,000 in ERT funds as a match toward this grant.
The goal of the ERT review for the Master Plan is to inventory and map unique and critical natural resources along this 50 mile trail. The Master Plan will evaluate the economic significance and value of the Air Line Trail, which was formerly the Air Line Railroad dating back to the 1870s. Today, the Air Line State Park Trail is public property and is used for biking, walking, hiking, and horseback riding. The Master Plan will be developed in collaboration with a task force made up of representatives from the Towns of Portland, East Hampton, Colchester, Hampton, Hebron, Columbia, Chaplin, Lebanon, Windham, Pomfret, and Thompson.
The project's scope encompasses over 50 miles of the Air Line Trail and properties adjacent to the trail, including town centers, state and town parks, and forests located within the twelve towns, eight regional watershed basins, four Council of Government regions, and the Last Green Valley region.
CACEE Center Study
The CACEE project evaluated existing conditions and potential sites to optimize new business development and incubator space in rural Connecticut with a mission toward the following:
Build a collaborative leadership between Connecticut's   agriculture business sector, conservation, outdoor eco-tourism and planned economic growth initiatives.
Adaptive reuse of underutilized a vacant building, brownfield   or a parcel of land in need of reclamation to create space for new rural entrepreneurial innovation.
Conduct research into economic conditions and potential for expansion and utilization of agriculture and conservation within Connecticut's rural economy.
CT RC&D with feedback provided by the CACEE Committee prioritized the historic former Scovil Hoe Factory site in Higganum Connecticut for further investigation by the Conway School of Landscape Design.  The Scovil property is currently owned by CTDOT and with grant assistance, the Town of Haddam is conducting numerous studies to fully understand the need and cost for site remediation.  The Conway School of Landscape Design evaluated unique opportunities on the property to integrate the best aspects of environmental design, public interaction, access, village context and educational opportunities for the site.
Project goals are outlined below:
Establish CACEE Task Force to Create Business Plan, Build Operational Partnerships and Fundraising Capacity.
Meet with USDA, town officials and potential interested partners to discuss the report, the project and next steps.
Establish sequencing and source of funding for environmental remediation, site and building design, infrastructure, technology and construction.
Discussion with CT Department of Economic and Community Development and USDA Rural Development: funding options for site construction.
Funding plan for staffing, operations and endowment fund for ongoing development and maintenance.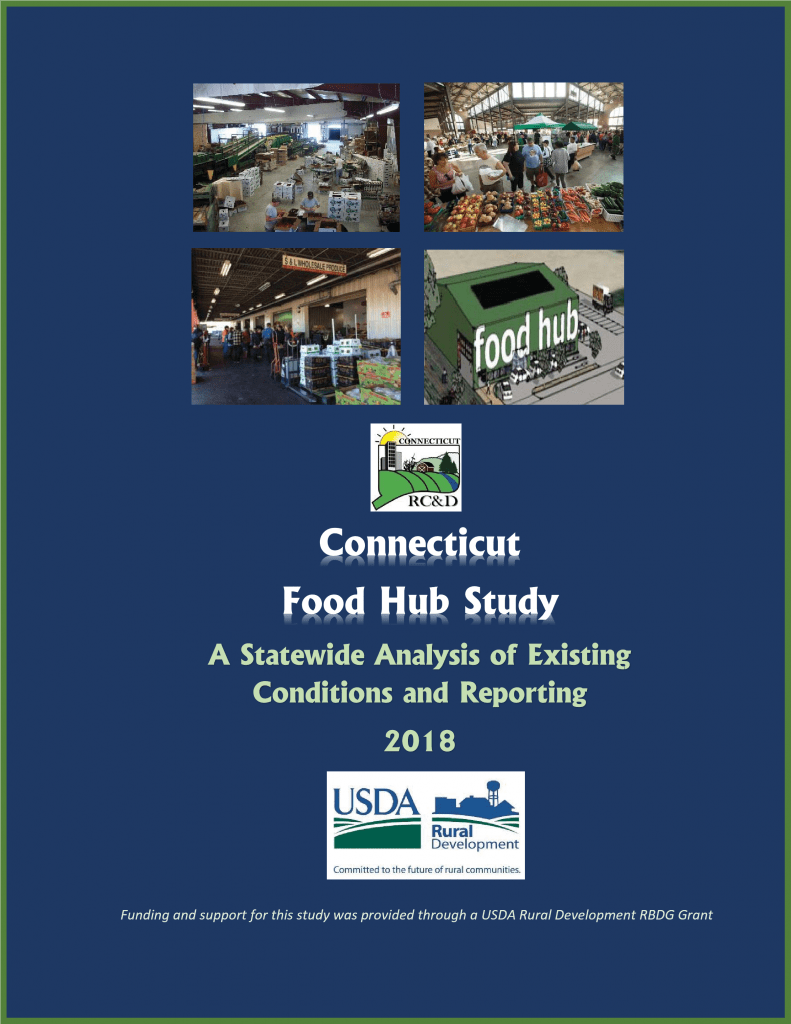 2018 Connecticut Food Hub Study
The purpose of this report was to investigate the status of food hubs in Connecticut and to see if a food hub in the state of Connecticut would be beneficial to Connecticut.
Through reviewing published studies and reports concerning trends in agriculture, population fluctuations, and consumer behavior, along with mapping out agricultural supply chain businesses across the state, it becomes evident that a food hub based in Connecticut will not only be profitable but also answer a growing demand for locally produced food by Connecticut residents.
For more information, please contact Jeanne Davies at 860.345.3977.
Community
Historically strong network of interconnected residents with strong ties toward personal and small business investment in social life, aging, youth, government education.
Economic
Small business innovation that was the hallmark of rural town centers and residents requires a new way of linking business development with rural resources: natural, village centers, resource-based, and agriculture.
Natural
Development pressure and generic policies encourage fragmentation of rural land resources that are vital to the ongoing and future economic health of Connecticut residents and businesses.
HAVE AN IDEA?
Let's Get Started
CT RC&D supports grassroots community and rural business development, including agriculture-based business in both rural and urban Connecticut. CT RC&D programs are designed to support residents, land trusts, small business entrepreneurs, grassroots non-profits, and municipalities who are seeking to find ways to balance natural resource protection, enhancement of community character, and economic growth. We have a network of partners who can find the solution for your town or resource based business.
CT RC&D Council members and professional staff are specialists in the issues facing rural communities, agriculture, and critical resource areas in Connecticut. CT RC&D encourages communities to match their unique strengths and character with conservation and economic management that celebrates economic value of natural resources, farms and working lands.
CT RC&D can assist with developing land use policies and resource inventories to help identify and each town's role in making Connecticut a vibrant and exciting place to work and live.