CONNECTICUT
TOUR DES FARMS
The 2021 Connecticut Statewide Tour des Farms!
TDF REGISTRATION IS CLOSED FOR 2021
Thank you for another great TDF season! 2021 registration is closed for the year! Submit your completed passports to jshea@ctrcd.org by October 15, 2021, for a chance to win one of our fabulous prizes!
Register to support CT farms all summer long! For 2021, CT RC&D is hosting a statewide Tour des Farms event for folks to enjoy at their own pace and schedule. The event includes eight regional routes, each featuring 5-10 amazing farms throughout the state. Riders will practice physical distancing while getting outside and exploring all Connecticut agriculture has to offer.
Resources for this summer-long experience include:
Printable Tour des Farms Passport
Ride with GPS Route Maps
Printable Cue Sheets
Customizable Tour des Farms Bib
Details for participants:
Register online between June 1st and October 1st.
Choose from eight suggested regional routes.

Litchfield Hills
Quiet Corner
Farmington River Valley
Central CT River Valley
Lower CT River Valley
Greater New Haven
Southeastern Coastal
Fairfield Region

Start anytime. End anytime.
Set your own pace.
Enjoy the open road!
Tag us on social media: @CTRCD @CT.Grown #2021TDF #BikeCTFarms
Submit your OWN favorite routes to our TDF Ride With GPS Club page.
Fill out your Tour des Farms Passport for a chance to win one of our prizes at the end of the TDF season in October. Stay tuned on our social media to learn more about our prize offerings!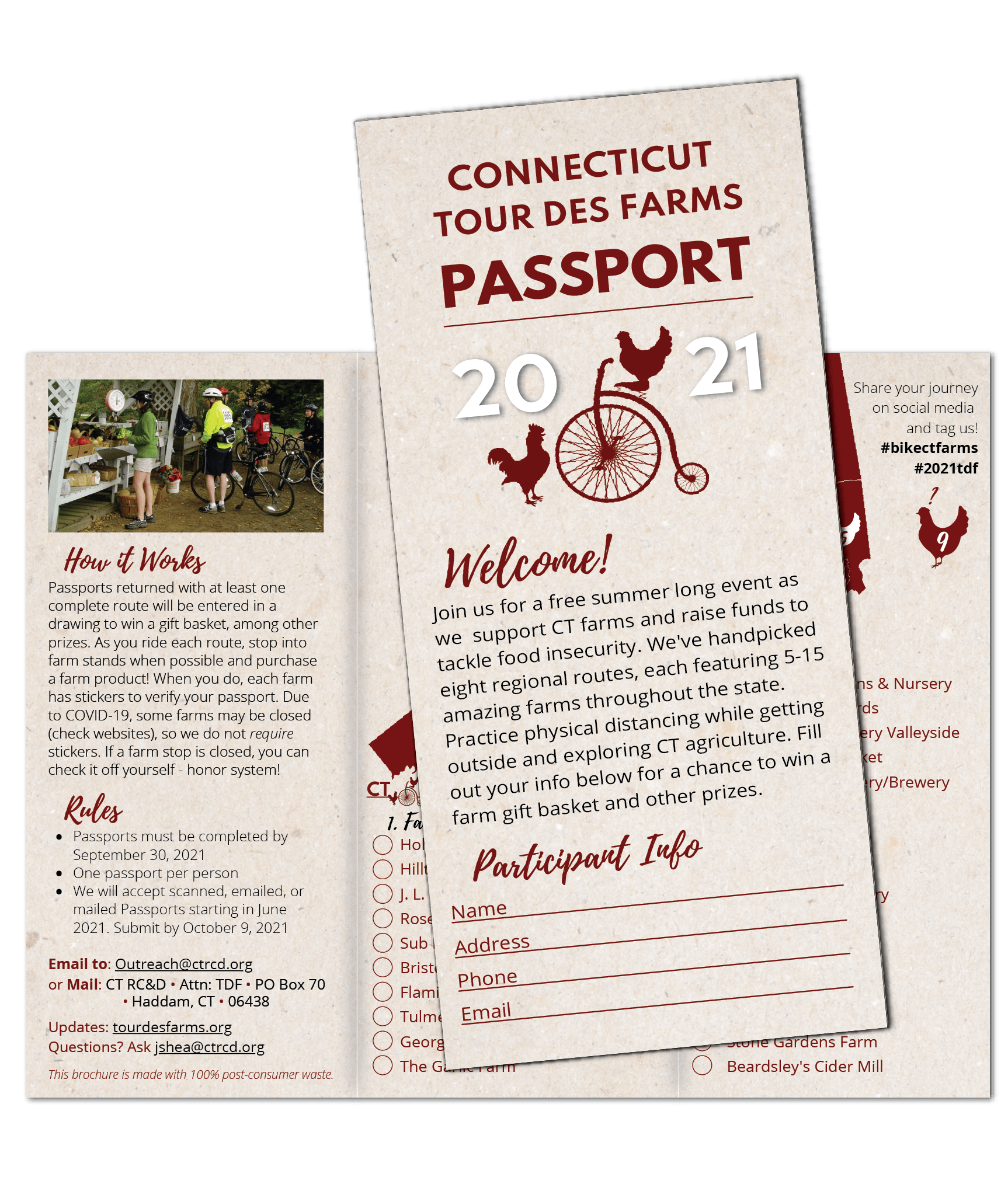 **Note that farm and business hours may vary due to COVID-19 precautions. Please refer to CT Dept. of Agriculture's CT Grown Map for the latest information on openings and closures. Additional information can be found at this DoAg  Farmers Markets and Farm Stands webpage.
View 2020 Tour Des Farms slideshow below!
As a program, Tour des Farms aims to move around Connecticut, ensuring diverse regional promotion. Due to COVID-19 restrictions, CT RC&D will host a summer-long statewide Tour des Farms event for riders to enjoy at their own pace and schedule. The event includes eight regional routes, each featuring 6-10 farms throughout the state. That's over 75 farms getting direct support from their communities!
Riders will also receive a few perks for participating! Riders who complete their Tour des Farms passports and submit them to CT RC&D will be entered to win a CT specialty food basket generously donated by Bishop's Orchards of Guilford, CT, one of the farm stops on a Tour des Farms route.
With food insecurity on the rise and farmer sales channels drying up, this donation effort allows everyone to help our local farmers thrive while keeping our communities fed with healthy, fresh food.
The Connecticut Tour des Farms Program is an annual bike ride designed to benefit and promote local farms, rural businesses, and the Connecticut community.