Congratulations to the 2023 Norma O'Leary Award for Excellence in Agriculture Innovation & Linda B. Krause Award for Excellence in Conservation Collaboration Recipients!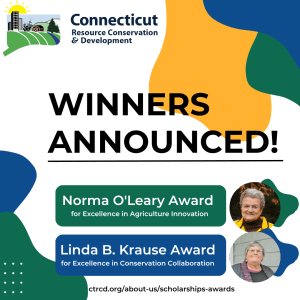 2023 Norma O'Leary Award for Excellence in Agriculture Innovation
The CT RC&D Excellence in Agriculture Innovation Award is given in honor of Norma O'Leary, an active and dynamic longtime dairy farmer, tireless volunteer, friend, former CT RC&D Council Member, and champion of local agriculture in Connecticut. To list Norma's long list of agricultural and conservation leadership roles would be impressive enough; past President of Connecticut Farm Bureau, Council Member of CT RC&D, Connecticut Agricultural Experiment Station, Eastern Connecticut Conservation District, and founding member of Thompson Together. Her diligence in rallying support for initiatives that raise the profile of agriculture and make our communities more vibrant continues to be an inspiration. Norma was the inspiration and driving force behind the AGvocate Program, which has been responsible for the proliferation of local Agricultural Commissions across Connecticut. Beyond all of this, she remains the matriarch and the rock of Fort Hill Farms, one of the most prominent dairy farms in the state and a member of Cabot Cheese and the Farmer's Cow.
Keith Bishop, Bishop's Orchards Farm Market and Winery
B.W. Bishop & Sons, Inc. is a family-owned and operated farm corporation, doing business as Bishop's Orchards. The farm was started in 1871 by Walter Goodrich Bishop who engaged in general farming including dairy, vegetables, and ice. His son, Burton Walter Bishop, joined him and expanded the business. In 1909, they set out the first commercial orchard. In 1975, the farm and family were awarded the Century Farm Award by Governor Ella Grasso and the Connecticut Board of Agriculture honoring its 104th year of operation under the same family ownership.
The current management of the farm is split between Keith and Jonathan as Co-CEO's (5th and 6th generation) and Team Managers are responsible for daily operations. One reason for the farm's success is the diversity of crops grown. Bishop's Orchards Winery was started in November 2005 and uses fruits grown on the farm to produce apple, peach, pear, strawberry, blueberry, and raspberry wines, as well as combination blends of those fruits. Over 15 fruit wines are now available, produced on site by Winemaker Keith Bishop. A CSA "Community Supported Agriculture" program was born in 2011 to provide weekly shares of the farm's fruits and vegetables to those in the region.
Keith was the visionary behind several energy efficiency upgrade projects at the farm as well as installing renewable energy on the farm. There are two solar arrays on the property, one having 1,108 Panels in 17 rows on a little more than an acre on soil unsuitable for crops, and the second array is on the roof of the Farm Market and has 381 panels. The combined systems are expected to produce approximately 80% of the farm's annual electric usage. Part of their conscientious stewardship was to not use any agriculturally viable land for the "Solar Field". Proud to enhance their stewardship and 'greenness' of the family's legacy, the ongoing benefits of the solar investment will assist in sustaining and operating a viable farm operation to keep 313 acres of land the family for generations to come.
2023 Linda B. Krause Award for Excellence in Conservation Collaboration
The Excellence in Conservation Collaboration Award is given in honor of Linda B. Krause, a longtime government leader, conservationist, environmentalist, and local and regional land use planner. Linda was a determined and artful advocate for collaboration between government officials, conservation organizations, and grassroots volunteers in Connecticut. Trained as a soil scientist, a professional planner, and facilitator, Linda worked to bring people together in pursuit of land use based on conservation, collaboration, knowledge, and cooperation between the community and the land that supports the community.
Connecticut Land Conservation Council, Middletown, CT
Amy Blaymore Paterson - Executive Director
Aaron Lefland - Deputy Director
Amy Blaymore Paterson - Executive Director
Aaron Lefland - Deputy Director