2023 Cover Crop Challenge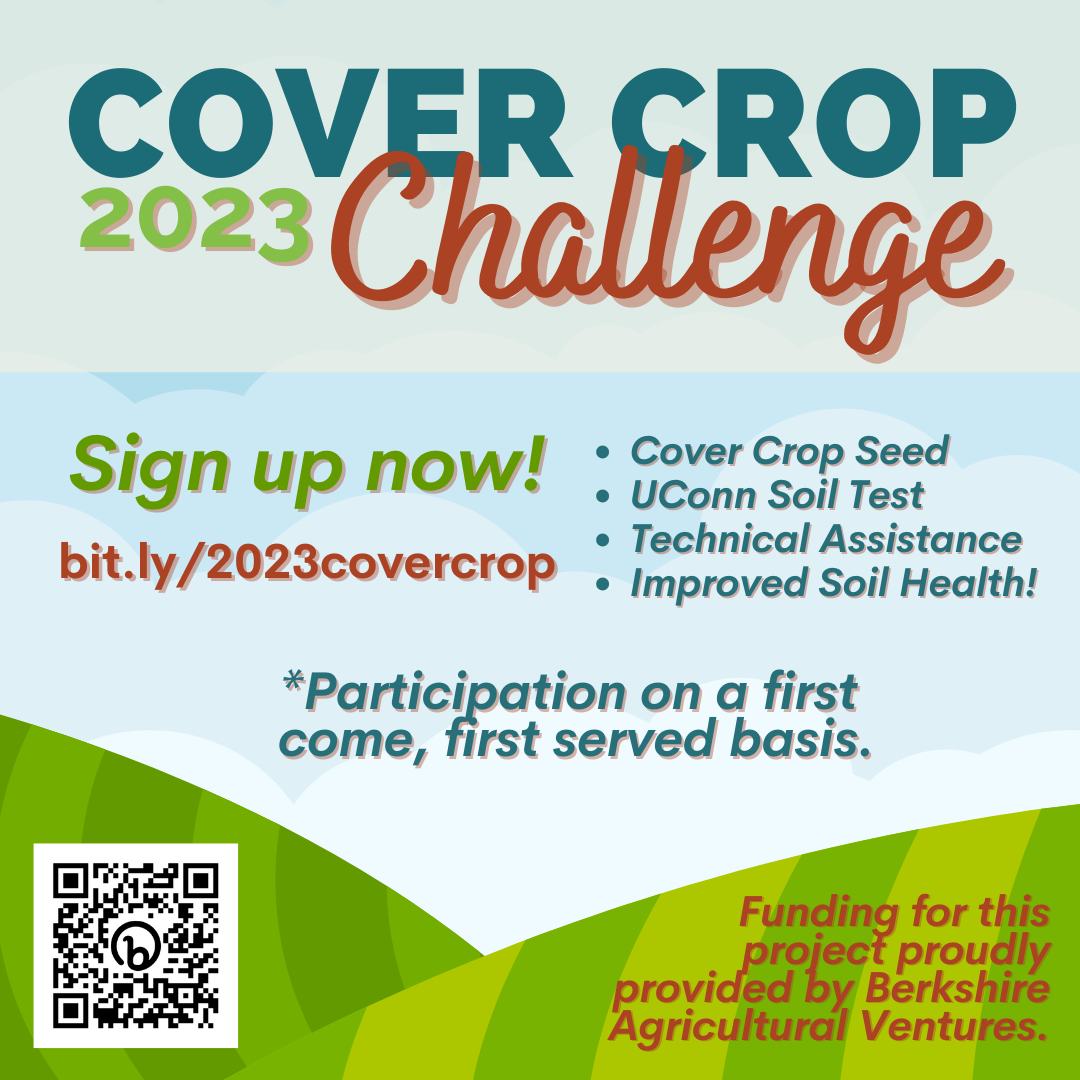 2023 Cover Crop Challenge
Northwest Conservation District, Berkshire Agricultural Ventures, CT Resource Conservation & Development, and USDA NRCS, have partnered to help farms in Northwestern CT realize a fuller potential for cover crops. This partnership recognizes the value of agricultural practices which enhance soil health -- physical, chemical, and biological. One of the practices recommended to improve soil health is the growing of cover crops. Leaving soils uncovered between cash crops leads to soil erosion, loss of topsoil, and soil compaction. Keeping plant roots in the soil and returning the vegetative top-growth to the soil maintains a healthy soil, including improved soil tilth, increase in organic matter, beneficial soil microorganisms, and improved nutrient cycling within the root zone. These benefits positively affect agricultural producers' expense/income ratio and therefore farm sustainability on a business level. Research has described the benefits of growing cover crops to their full vegetative stage, to gain the benefits of the root growth and shoot growth related to soil building, water management, and nutrient cycling.  Supporting agricultural producers' adoption of innovative practices may result in initial cost increases and learning new techniques. For these reasons, the Challenge is designed to assist producers through the transition period.
The goal of the Cover Crop Challenge: "LET IT GROW" is to introduce producers new to cover crops or expand existing cover crop users' perspectives to grow crops to their full vegetative state. This will promote realization of the greater potential for soil health, nutrient capture and cycling, and soil erosion prevention. Many cover crops are grown to fill the space until the cash crop is seeded and are terminated before the cover crop has a change to do its best work. This project will challenge producers to consider their cover crops similar to a cash crop, to better realize the monetary value, agronomic value, and ecological benefit of growing cover crops to their full vegetative state. This approach recognizes the nutrient capture in the roots and shoots for valuable N-P-K; allows the root biomass in the soil to provide structure and organic matter for water management; recognizes the ecological benefits of the micro- and macro-biota; and improves soil holding capacity.
For more information, go to bit.ly/2023covercrop .